The Good Life Goals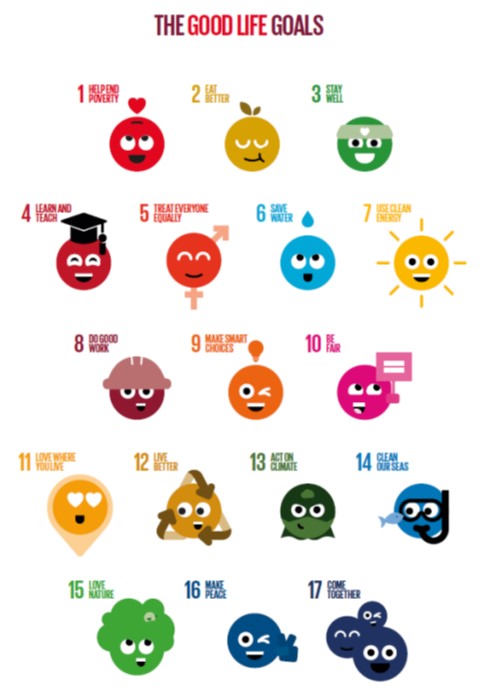 I've written before about the UN's Sustainable Development Goals (SDGs) which aim to achieve an environmental, social & economic balance across the world. The aim is to deliver these 17 goals by 2030. It is important that governments, organisations & businesses all work together, to ensure the wellbeing of our citizens in the medium & long term.
But individuals themselves may feel disconnected from the SDGs (& the supporting 169 targets). Enter the Good Life Goals.
These have been developed to support the main SDGs, but show how we, our families & friends can make a difference. Our own everyday actions have the power to change the world!
I particularly like the environment & health ones. For each Goal, check out what you could be doing:
Goal 13 – Act on Climate

Learn about climate solutions
Call for more renewable energy in your country
Eat more plants and cut down on meat
Walk and cycle rather than drive
Demand leaders take bold climate action today
Goal 7 – Use Clean Energy
Find out where your energy comes from
Save energy wherever you can
Use renewable energy for heat, light and power
Buy from companies powered by renewable energy
Demand clean, affordable energy for everyone
Goal 12 – Live Better
Learn about sustainable development
Reuse, repair, recycle, share and borrow
Waste less food and use leftovers
Collect friends and experiences, not just things
Demand that businesses respect people and planet
Goal 3 – Stay Well
Learn about, and share, ways to stay healthy
Wash your hands and exercise regularly
Stay safe on or near roads
Value mental health and well-being
Demand medical care and vaccinations for all
Using the Good Life Goals
There is loads of supporting material including these fun little emojis & the Business Guide. See how you could use these in your environmental activities.
The Good Life Goals have been shaped through a multi-stakeholder collaboration between Futerra, the 10 YFP Sustainable Lifestyles and Education program, co-led by the governments of Sweden and Japan represented by the Stockholm Environment Institute (SEI) and the Institute for Global Environmental Strategies (IGES), as well as UN Environment, UNESCO and WBCSD.
_____________________
Liked this post? Sign up for the Eshcon Newsletter.