The SDGs: what are they & why should we care?
Hopefully you should be becoming aware of The Global Goals – the UN's Sustainable Development Goals – but what are they & why should we care?
Myles Wickstead CBE is an expert on international development, a Visiting Professor at King's College London, was British Ambassador to Ethiopia and was Head of Secretariat to the Commission for Africa. Myles wrote a great article a year ago on the SDGs. Here it is in full and I'll summarise a few of his key points below to give you an introduction.
At a UN Summit in late September 2015, Governments signed up to a document called: 'Transforming our world: the 2030 Agenda for Sustainable Development'. It contains a set of 17 Sustainable Development Goals (SDGs), supported by 169 targets and many more indicators. The 17 SDGs are shown in this diagram.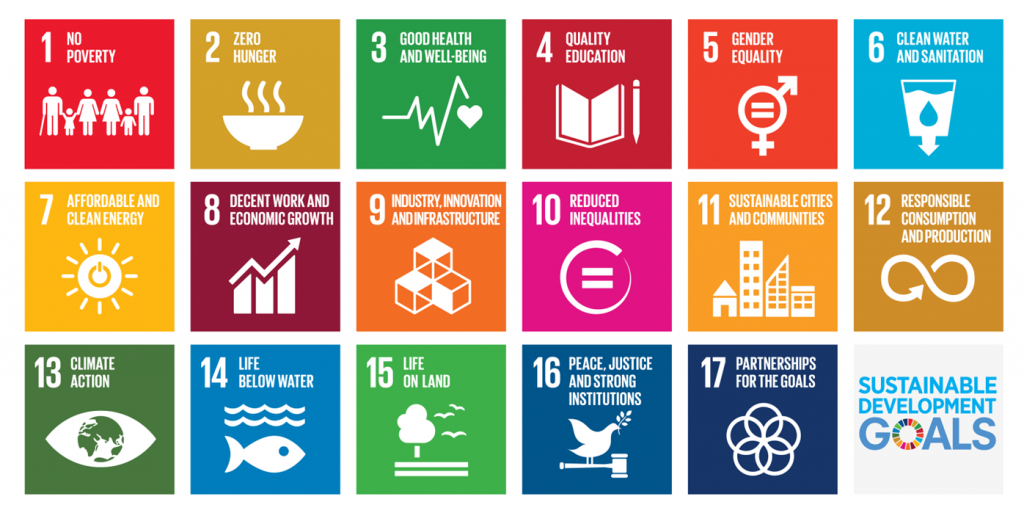 If all these goals and targets are too much to remember, think 'P'. The key elements of the document are:
Prosperity – the need for inclusive economic growth
People – the importance of equity and fairness, and leaving no-one behind, whatever their ethnicity, sexuality, disability etc
Planet – the importance of respecting the environment and dealing with the causes and consequences of climate change
Peace – progress on any of the above will be difficult or impossible without a reasonable degree of peace, security and good governance
Partnerships – the three key organisational pillars – Governments, civil society and the private sector – need to work together to make progress).
Those that are of particular interest to me are obviously the environmental ones, e.g. 13 Climate Action or 12 Responsible Consumption. But actually they are all interlinked in some way, with activities in one area trickling down / along & having a positive effect elsewhere.
To give an indication of the importance of these issues, think perhaps about people living in absolute poverty (less than $1.25 per day) – numbers have been halved between 1990 and 2015, so that SDG 1 to eliminate absolute poverty by 2030 is not a wild aspiration.
On environmental front, the Paris Accord signed by most countries of the world, commits to keeping the rise of global temperatures to 2°C, ideally 1.5°C, above pre-industrial levels. Plus the SDG aims to mobilise $100 billion a year by 2020 to help mitigate climate-related disasters.
In relation to gender equality, women now make up to 41% of paid workers outside of agriculture (35% in 1990) & more girls are now in school compared to 15 years ago. But also just think about your own experiences.
So the SDGs are not just about the richer countries like UK and USA simply funnelling money to the less developed ones. These goals apply a key equally to us – who doesn't want to decrease poverty for our own citizens, to improve our air quality and reduce the impacts of climate change that we are already experiencing?
Making progress on all this demands a sixth 'P' – political will.  Governments sometimes need a little help to demonstrate that political will – and that is where we all can play a part.  Encourage the British Government both to support progress towards the SDGs in other countries, but also to set out how it plans to see the UK make progress in this country. Think about how they apply to your own circumstances and use them as a framework for your business.
I have joined the UKSSD to work in partnership with other businesses, organisations, public bodies and individuals to ensure we deliver the global goals and benefit from them too.
More information about the SDGs is available here or here for UKSSD.
For Eshcon Case Studies and Information Sheets, please see the Resource Centre.
_____________________
Liked this post? Sign up for the Eshcon Newsletter.