B Corp certification – how EMS improves your chances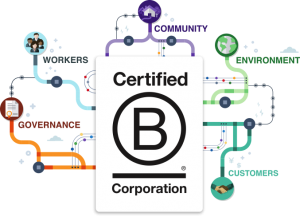 I'm getting a lot of enquiries from companies wanting to go for B Corp, but they need help with environmental management.
It's been an interesting development for me. Most of my clients want an EMS because their customers demand ISO 14001 certification or they use it for legal compliance issues.
The new companies aren't coming to me for help with the application itself (although I do have a partner consultant who does this) – they actually need me to help them with the environmental section.
What is a B Corp?
B Corp is quite a challenge and a great achievement.
Certified B Corporations are businesses that meet the highest standards of verified social and environmental performance, public transparency and legal accountability. Instead of just driving profits, they have a strong purpose (indeed it's written into their Articles of Association). Their aim is to redefine business and develop a more inclusive and sustainable economy.
There are currently over 3,700 Certified B Corporations in more than 70 countries, large and small, including some well-known names like Ben & Jerry's, Triodos Bank, Octopus Energy, Innocent Drinks and Jamie Oliver Group.
For more info on B Corp, check out their website.
What does B Corp require?
The application process assesses the organisation in five categories: Governance, Workers, Community, Customers and Environment.
You must achieve a minimum score of 80 (out of 200).
The questions are tailored to fit the type of business (to a certain extent) – micro businesses or those with virtual offices only will have a reduced set of questions compared to those that own or lease their buildings.
The Environment section requires explanation of
Environmental Management Systems in place
The processes in place to reduce the impacts of energy, waste (including hazardous waste), water, transport and the use of materials
Understanding of and setting targets to reduce carbon emissions
Other items such as renewable energy purchased and generated, plus carbon offsetting.
Also required is data for energy consumption, renewable energy, water, waste, recycling and carbon emissions.
How can an EMS help with B Corp?
Clearly having a good quality Environmental Management System provides you with the data and the information to address all of the requirements within the B Corp environment section. Although you may not do everything (for example you may not (yet) purchase renewable energy), the EMS means that you will be able to provide responses to the questions rather than 'not applicable'.
And this is what my clients are coming to me for – help them implement an Environmental Management System and get them ready for certification for ISO 14001.
If you want to improve your chance of getting B Corp certification, call me now for help with your Environmental Management System.
_____________________
Liked this post? Sign up for the Eshcon Newsletter.