Sustainability Live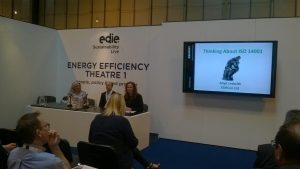 Well I had a busy few days at Sustainability Live recently.  SusLive is the leading UK exhibition for energy technologies and services, taking place over three days in April 2015 at the NEC.
I used the time to network with a variety of contacts – suppliers, clients and partners. It's always good to catch up with people there in an informal setting.  Plus I was busy 'on the stage' so to speak. I gave two presentations and chaired a session in one of the Energy Efficiency theatres. These workshops and seminars were designed to offer practical guidance and advice about implementing sustainability and energy management initiatives.
ISO 50001 and 14001 – Making the Connection
With ISO 50001 a route to compliance under ESOS, many companies are interested in putting in an Energy Management System to this standard, but don't know where to start.
My first session covered the connections between this and ISO 14001. There are many links in how the systems work, so you're not starting with a blank piece of paper.
Thinking About ISO 14001
While SusLive has traditionally focussed on energy, I wanted to make sure that environmental management was properly understood too. Thus, the next day I chaired the session on ISO 14001. I gave an introduction to EMS, the process and benefits, sharing my experiences on systems and challenges.
I also welcomed Greg Roberts from EEF who spoke about the key changes in the new version of the standard coming out later this year. Lastly, Sandra Norval, Head of Environment at Govia Thameslink Railway gave an insight into how they are preparing for the next standard's arrival.
Environment and Energy Awards
To round off the event for me, later that evening I was proud to present the top trophy at the Environment & Energy Awards, for which I have been a judge for nearly 10 years!
The Sustainable Business of the Year award went to B&Q. Many congratulations to them!
Full details of all the winners of the 12 categories can be found here.
So, Sustainability Live was a busy few days for me. If you'd like any further info on any of the subjects I spoke about, including a Gap Analysis of your systems, please do email me now.