#ShowYourStripes – Check out my Climate Stripes face mask
It stops the spread of Covid-19. And it helps share information about climate change.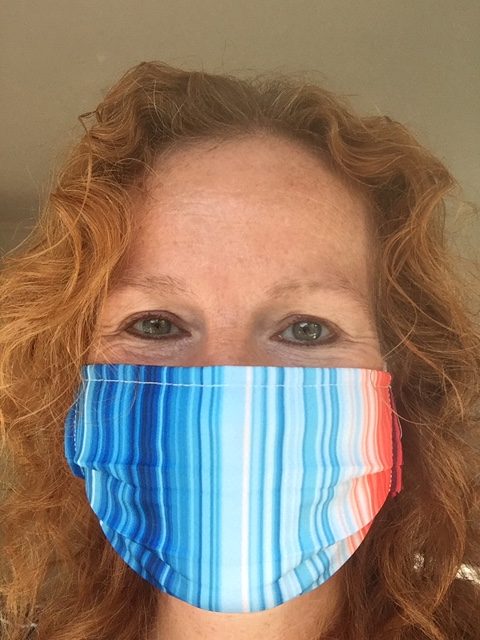 Everyone's wearing a mask nowadays with the on-going Covid-19 pandemic. (Well actually, I see too few people wearing one, but that's another story… Please, everyone, wear a mask to help prevent a second wave!)
Some people have disposable masks, while others are choosing more colourful cloth masks. You see all kinds of designs – animal faces (I love the zebras!), famous paintings (I've got The Starry Night by van Gogh) or simple abstracts.
But when I saw the climate stripes mask, I just had to have one!
The climate stripes were developed by Ed Hawkins, Professor of Climate Science at the University of Reading.
They are a simple visualisation of complex climate data, showing the average global temperatures since 1850. Each stripe represents one year, blues are cooler years, reds are warmer. This clearly showing the warming of the planet in recent years – a definite trend.
#ShowYourStripes
Ed Hawkins has allowed the stripes to be used on a range of merchandise – a couple of years ago I bought a scarf, notebook & tote bag & now I have my mask.
I love the climate stripes – I use them to start conversations. This is particularly well timed as people do seem receptive to the idea of improving our world & our lives now, as the Covid-19 pandemic will pass.
So where did I get it? Check out Ed Hawkins' shop on Zazzle – here for the main shop & here for the mask. There are loads of items from socks, ties, mugs & even leggings! So check them out and then you can #ShowYourStripes!
While these stripes cover global temperatures, there are similar graphics for virtually every country. You can download and use them here.
So the climate stripes are a great resource – please do use them to spread the word about climate change.
Lastly, please also remember, if you're using a disposable mask &/or other PPE, don't litter! Dispose of them carefully & correctly.
___
Does your company have to comply with the SECR carbon reporting regulations?
Would you would like to understand your organisation's carbon emissions?
It's all a bit daunting. Don't know what to do?
Please give me a shout so I can help you get started.
You may also wish to go Net Zero to reduce your carbon emissions. More info on Net Zero here.
_____________________
Liked this post? Sign up for the Eshcon Newsletter.