Positive Vibes during Covid-19 Lockdown
I try to give out positive vibes, so here are some thoughts on this Friday morning.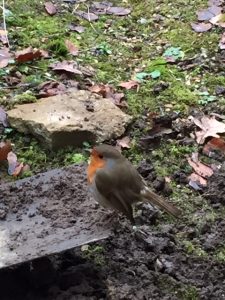 I love the wildlife in my garden – the birds are busy gathering nesting materials & food. I was digging at the weekend – accompanied by inquisitive robins & blackbirds.
Even the squirrels (previously, my nemesis!) are delightful, bouncing across the lawn.
The birds are more vocal too – with the reduced road & air traffic noise. I'm getting better on identifying birds from their song.
The spring colours are fabulous – the azaleas are coming out & the rhododendrons will be soon. Plus, the vibrant greens of the new tree leaves, especially the oak & beech, plus the reds of the acer.
I'm talking more with my mum – previously we maybe had a weekly phone call. Now we're touching base every couple of days & just 'talking toot'. Again, sharing positivity.
Similarly with the rest of the family on the Whatsapp group. We're planning summer gatherings for birthday & wedding anniversary.
Work processes have changed – no driving; zoom meetings rather than phone (good to see people); remote auditing; changing to meet different objectives.
I'm used to working from home, so no great adjustments needed. I do miss the social side of networking, but we're trying new things with this too.
I'm using the time to review my business & plan for the medium/long term. How I work, what I do, with whom I collaborate. Exciting times!
There are great opportunities for all businesses to think about their own situation – their mission, processes, engagement with suppliers/customers/the community. We can & will #BuildBackBetter!
I'm getting a lot of support from other business owners – our Whatsapp group is buzzing, sharing info, ideas & now jokes. Really useful to share concerns with others & ask for help.
With the lovely weather I can have lunch outside most days. Gives my eyes & brain some rest time.
Instead of going to the gym, I'm using a cycle trainer (cycling around the Alps!) & occasional runs around the neighbourhood.
I have not, however, baked sourdough bread.
Things are a challenge, of course they are – but I realise I'm very lucky & I'm grateful for these positive vibes.
—
I wrote this in early April, towards the beginning of the Covid-19 lockdown in the UK. Businesses, shops, schools & universities were closed & the numbers of deaths were rising. It was a scary time & we didn't know how long it would go on for. During such difficult times, it is important to keep positive… hence this blog.
_____________________
Liked this post? Sign up for the Eshcon Newsletter.