How Nature can Improve your Wellbeing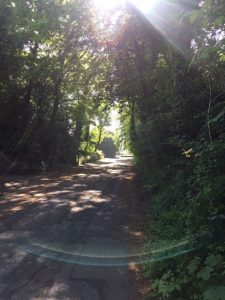 I'm a firm believer of the benefits of connecting with nature, for both mental & physical wellbeing. Since joining the Sussex Wildlife Trust as a corporate member, I've been keen to promote this concept to my business contacts.
During the Covid-19 lockdown, people are taking the opportunity to explore their local surroundings & enjoy nature nearby. They've found that you don't have to go all the way to national park or nature reserve to connect with nature. Personally, I see a great variety of flowers, shrubs, trees, birds, mammals & insects on my regular walks or runs around the neighbouring roads (see this photo). I love it!
Use Nature in your Business to Improve Wellbeing
So, once we're all back at work again in the future, think about how we can help our colleagues to connect with nature – to the benefit of the person & the business.
The Trust gives this advice:
Daily contact with nature is linked to reduced levels of chronic stress, reductions in obesity & improved concentration, so encourage your colleagues to get outside & help them feel healthier. There is a 10% reduction in work absence if employees are able to look at a green space rather than a wall.
It would be great to green your office by creating an outside area – have a seating area with planters & trees; although this wouldn't be possible at many sites.
Small changes inside the offices are possible. Adding plants & photos of wildlife (or even playing birdsong!) can help your colleagues at work. Employees are 15% more productive when workplaces have even a few houseplants.
Map out local walking routes in wild places for people to enjoy at lunchtime. Promote these to staff so they can walk on their own, or even together as a regular social activity. People with easy access to nature are 3 times as likely to be active as those without access.
Have walking meetings, rather than be stuck indoors around the boardroom table. Walking can help focus the mind, so meetings can be more productive & creative.
Green neighbourhoods can help to reduce depression. Why not work with your neighbours to create wildflower borders & bird feeding stations?
5 Ways to Wellbeing
Check out this short video with Dr Amir Khan: Natural ways to wellbeing.
And finally, here are the Wildlife Trust's '5 ways to wellbeing':
Be Active – Go outside for a walk or explore your nearest nature reserve
Connect – With the people around you, share your wildlife experiences
Give – Do something to help your local place and the people that live there
Take Notice – Of the everyday wildness on your doorstep
Learn – Try something new outside
Sounds good? Do let me know how you've incorporated this into your business, or indeed plan to do so when the lockdown is lifted.
_____________________
Liked this post? Sign up for the Eshcon Newsletter.