What's new with ISO 14001?
ISO 14001 is the best known standard for environmental management. There are over 300,000 certificates issued across the world.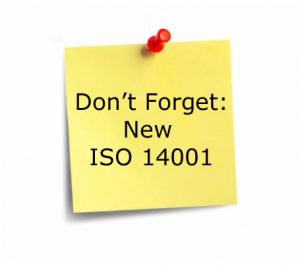 It has been 11 years since ISO 14001 was last reviewed and the new standard has just been released – an exciting time for the environmental management industry.
ISO14001 systems will need to:
Cover not only your impact on the environment, but also how the environment (external conditions) affects you
Be integrated into the business, not a standalone system or just a tick-box exercise
Have more involvement from senior management, showing leadership
Cover supply chain and products in use, as well as direct operations.
Include the views of wider stakeholders
Have higher quality data management and focus on environmental performance.
There will be a transition period of up to 3 years for organisations to certify to the new standard.
It is wise to start thinking about it now. It'll make your transition smoother and you'll see the benefits sooner.
I am working with clients to conduct a Gap Analysis of their existing EMS. It's a great way to identify areas for improvement.
Email me or click here for more details.