After the Deadline – 4 Tips for Getting the Best from ESOS
Thousands of companies rushed to comply with ESOS, the Energy Savings Opportunity Scheme. Were you one of them? You're probably thinking… great, I don't have to do anything until the next deadline.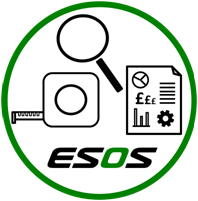 But if you do leave it there, you're missing out on great opportunities to save energy and money. Now is the really important bit.
So, where do you start and how do you keep momentum?
How to Get the Best from ESOS
Step 1 – Think about Priorities
The report from your energy audit will have given you recommendations for saving energy – including electricity, gas, other fuels and for transport. The actions don't have to be just technical, you should also be thinking about operational & behavioural changes too.
You'll probably have been given an indication of priority for the actions – the quick & easy ones (the 'low hanging fruit') that will give you best return or those that require a little more investment.
Your first step is to think about your business priorities:
Which actions will give the quickest and best savings?
Are the actions easy to implement – how much time or finances are needed to do?
Do they fit in well with other operational priorities?
What will help raise your profile (both for the business & your own within the business)?
Step 2 – Develop your Action Plan
Once you've considered your priorities and identified which of the recommended actions you want to implement, develop your action plan.
For this, consider:
What actions will be done & where (sites, departments etc)?
What are the costs and timescales?
Who will be involved or responsible for them?
Who are your preferred suppliers or advisers?
also
What challenges do you anticipate (often relate to getting finance or approval)?
How can you involve the necessary people (inc top management, staff & even customers)?
Who signs off the plan? Don't own it yourself – get involvement from across the organisation.
Step 3 – Good Quality Data & Targets
With any plan it's important to have good quality data, so put in place processes – it'll be easier next time for ESOS, plus you may need it for SECR Carbon Reporting as well.
Additionally having a target to aim for gives better momentum for your action plan.
What data is needed for ESOS, SECR and other business planning? Don't forget to cover transport as well as energy in buildings.
How is that data currently collected or provided, by whom & when? How can this be improved, e.g. with automation?
To get best results – make it easy to collect the data. Review it regularly. Set a target. Act upon it.
Step 4 – Management Systems
Bring all these elements together to put in an Environmental Management System. Having formal processes help you manage your impacts, plan risks, find efficiencies & savings.
Many companies expect their suppliers to have ISO 14001 certification, so why not combine this with your energy work.
Don't forget to share your findings, recommendations & action plans with other businesses within your group who may also be covered by ESOS.
You want to get the best from ESOS? Talk to me how I can help.
_____________________
Liked this post? Sign up for the Eshcon Newsletter.