End of the Road for Halogens?
We all know that halogen bulbs are notoriously short-lived – they are forever blowing & it takes time & money to keep changing them. But did you know that halogens are on the way out? Most types of the gas-based bulb are scheduled for phase-out on 1st September 2018.
A few will remain on sale – e.g. used for spotlights and floodlights – but in general you need to be thinking now of alternatives & LEDs will be the sensible choice.
LED Savings
LED technology has advanced over the years & it's now available in every household fitting. The energy & cost savings in choosing LEDs over halogen stand to be significant.
For example, you have a traditional 100 Watt bulb – the energy costs of replacing this with a 14W LED would be around £2 a year, while a 77W halogen would cost around £11 and a CFL £3. The CFL may be cheaper to buy but it'll only last half as long as an LED, making it more costly over its lifetime.
Amazingly a halogen light bulb is likely to last for 2,000 hours of use, while an LED should last for as many as 25,000.
Which Halogen Bulbs are Affected?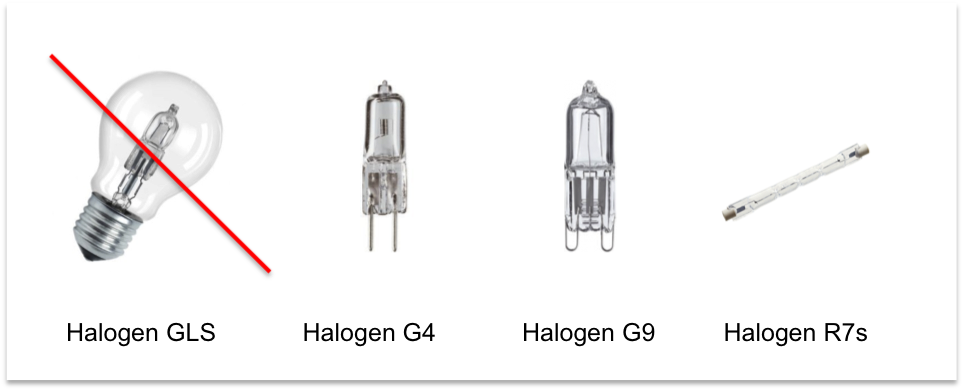 From 1st September 2018 some non-directional mains-voltage halogen lamps (mainly the GLS pear-shaped ones, candle & golf ball) will no longer be brought to the market. Phase out means they can't be sold, not that you are banned from using them.
This does not affect:
Directional halogen lamps, such as popular spotlights
Halogen lamps often used in desk lamps & flood lights
Special purpose items such as fridge & oven lamps, halogen capsules & linear R7s.
Halogens out & LEDs in
With the halogen phase-out a few months away, you don't need to panic. Replacing all your halogens at once will be a significant financial outlay, so it's worth doing it in stages for those long-term benefits.
Also it's important to get the colour right with your new lighting. Some people think that LEDs are only available as stark & bright. Yes they can be seen as 'whiter' or maybe a little 'bluer', but they do come in different options. Look on the packaging for the difference between cool white (listed as 4000K) or warm white (listed as 2700K).
Get the right ambience, using a range of bulb types, fittings & dimmers. Do be aware, however, that while dimmable LEDs are now available, don't use them without checking the compatibility. (If in doubt, ask your retailer or electrician before buying.)
Traditionally much more expensive, the cost of LED lighting has fallen significantly recently. However, if you just go for the cheapest, it's reasonable to expect cheaper bulbs to be less robust in the long run.
Love the idea of the latest lighting technology? 'Smart bulbs' offer the maximum functionality, including controlling from your phone – they're expensive though so maybe just consider it for future refurb projects.
So, even without the phase-out of halogens forcing us to make the change, introducing LEDs to your home & workplace offer a good balance of good quality lighting, affordability & ambience.
_____________________
Liked this post? Sign up for the Eshcon Newsletter.