Delighted to be FIEMA
I was thrilled to receive a letter recently from IEMA, my professional institute, the Institute of Environmental Management & Assessment. I've been a member for over 20 years, progressing through the membership levels, becoming a full member MIEMA & Chartered Environmentalist CEnv in 2005.
The letter was to invite me to become a Fellow of IEMA. I was absolutely thrilled, as this is really the highest professional recognition there is.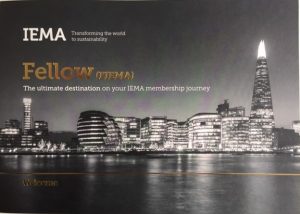 Rather than applying for FIEMA, I was nominated by other Fellows & approved by the selection committee, which wrote to say:
"This is in recognition of your leadership skills as an award-winning consultant with expertise in environmental management and as an advocate for corporate sustainability. In particular, we wish to recognise your dedication, continuously working above and beyond your day job to give back to the profession, be it as a judge for the Sustainability Leaders Awards, as part of Sussex University's student mentoring program or as Vice Chair of the IEMA Sussex & Surrey region. Given your broad expertise, representing the UK as Chair of the BSI Committee on environmental management system standards, we particularly wish to commend you for continuously sharing your knowledge of this sector with the rest of the profession and raising the standard of practice for environmental management."
As you know, my mission is to make environmental management THE business norm. It is fabulous to be recognised by my peers & the committee for the work I do both within & out of my consultancy.
I look forward to meeting up with other Fellows soon, to help raise IEMA's profile even more.
_____________________
Liked this post? Sign up for the Eshcon Newsletter.